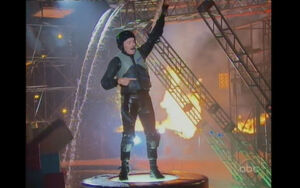 The Wipeout Zone is the final stage of the show. The top four contestants compete for the best time in the USA version, and in the UK version and Seasons 4 and 5, it's the top three. There have been twelve Wipeout Zones since Season 1, the first one (aired, not 1x09) being the Killer Surf, Barrel Run & Climbing Wall, Spinner, and Launch Pads. Since then, there have been numerous additions such as the Gears Of Doom,Crazy Sweeper, Crankshaft, Spin Cycle, The Great Wall of Fall, Iron Maizen, Point Break, Coin Toss, Scary Go Round, Frostbite, Springshot, Frozen Fury, Commakaze, Spinergy, and many, many more obstacles. The end of the round resulted in one contestant winning $50,000 or 10,000 pounds.
British Obstacles
The Rolling Log is used in the UK Wipeout Zone, whereas it is used in a S2 qualifier under the name Log Roll.
Rapid Climb = Raging Rapids
Flingymajig = Catapult
Ice Stairs = Icy Stairway From Hell
Ice Picks = Piston Punch
Frightcicles = Frostbite
Impossible Snowflakes = Sinister Snowflakes
US Obstacles (Season 7)
Community content is available under
CC-BY-SA
unless otherwise noted.