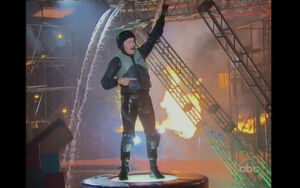 The Wipeout Zone is the final stage of the show. The top
four
contestants compete for the best time in the USA version, and in the UK version and Seasons 4 and 5, it's the top three. There have been twelve Wipeout Zones since Season 1, the first one (aired, not 1x09) being the Killer Surf, Barrel Run & Climbing Wall, Spinner, and Launch Pads. Since then, there have been numerous additions such as the
Gears Of Doom
,
Crazy Sweeper
, Crankshaft,
Spin Cycle
, The Great Wall of Fall, Iron Maizen,
Point Break
, Coin Toss,
Scary Go Round
, Frostbite, Springshot,
Frozen Fury
, Commakaze, Spinergy, and many, many more obstacles. The end of the round resulted in one contestant winning $50,000 or 10,000 pounds.
British Obstacles
The Rolling Log is used in the UK Wipeout Zone, whereas it is used in a S2 qualifier under the name Log Roll.
Rapid Climb = Raging Rapids
Flingymajig = Catapult
Ice Stairs = Icy Stairway From Hell
Ice Picks = Piston Punch
Frightcicles = Frostbite
Impossible Snowflakes = Sinister Snowflakes
US Obstacles (Season 7)
Community content is available under
CC-BY-SA
unless otherwise noted.