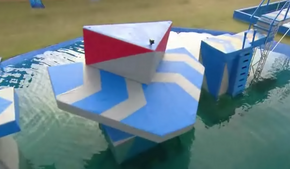 The Shake-a-Lator is a Season 3 obstacle on the Qualifier of Wipeout. It's most of the time used as the fourth one, sometimes replaced by the Trampoline Sweepers or the Organ Grinder. It has the reputation of toying with the contestants a lot, of which some stay on the obstacle for a long time, and of which some are as quickly off as they were on it. As soon as they attempt to jump to the final platform, it will tip making the contestants fall off.

Even though this obstacle did not return, the Jiggle-ator a variety of this obstacle appears in season 4.
It also has different forms like foamy shake-a-lator,ball shake-a-lator,balls with velvet ropes,unfoamed shake-a-lator,normal shake-a-lator and one time it had wrecking balls.
C6. Dean Viana 3x18- America's Finest
Gallery
[
]
.
Trivia
[
]
The Shake-a-Lator is built on a gimbal. That's a device that is used in movies to simulate the movement of an airplane or boat in a storm.