Scott Willson IV is a chess instructor who was nicknamed "The Checkmater". He appeared the fourth episode of season 7, Win a Date With Jill.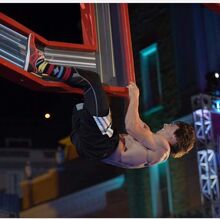 During the qualifier, he placed 4th, finishing with a time of 3:31.3. He later became the last competitor standing in the Sweeper, in which he took home $500. He later placed 4th again on the third round, and eventually advanced to the Wipeout Zone.
He managed to finish the course with a time of 3:01.79, which was eventually beaten by Nick Santo. He still left with $500 earned at the end of the day.
One year after he competed in 2014, Scott Willson IV started regularly competing on American Ninja Warrior. He has currently qualified for the city finals three times in his career. As of 2018, it was also revealed that he also works another job as a Ninja Gym owner after successful ANW owners Chris and Brian Wilczewski have promoted him to doing so.