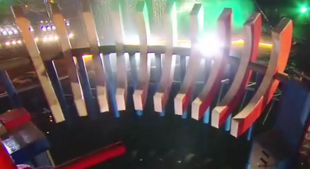 The Rib Rage is an obstacle in the Wipeout Zone of Season 3. It is featured along with the Spin Cycle, Triple Threat, Spiked Whackers and Arms & Dangerous. The object is to sprint as quickly as you can across the ribs which are falling out from under you when you're stepping on them. The more you cross, the less you have to swim to the next obstacle. So far, none have beaten the Rib Rage.
Crossing ribs
Edit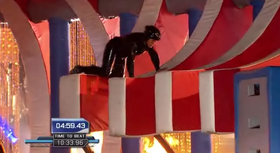 The record for most ribs crossed belong to
Heavenly Swendsen
,
Andrea Corkhill
(
3x15: Ladies' Night
),
Brie Carter
and
Tesara Liggins
(Episode 3x17|3x17: Ahoy, Ye Land Lubbers). All manage to sprint to the seventh, where they stumble and fall with the eighth rib. The latter of the four both touched the ninth rib. Honorable mentions go to
Katelyn Reina
(
3x01: Blind Date
) and
David Brummel
(
3x14: Mustard, Ketchup, & Wipeout Weenies
) for crossing seven ribs.
The worst runs were made by Andreas Neumann (1/10) and Karalyn Sharamitaro (2/10). Caroline Lee and Jamie Cardiff both made three. Bree Bailey, David Hutchison and Darrel Rivenbark only crossed four. This may be due to the fact that in some episodes, most obviously in 3x08, the weight a certain rib can hold changes. In that episode, it was already at the beginning, while in most episodes they only begin falling at the fourth or fifth. They also tend to change the weight of certain ribs, as shown in 3x15. It was clear that the seventh rib was still able to hold the contestants. It could all be coincidence, though.
Community content is available under
CC-BY-SA
unless otherwise noted.