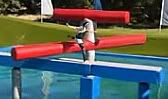 "Motoring" Melia Quiray is a female contestant on season 2 episode 9. her interview was not shown, but it was told by the two John Henson and John Anderson that she is a massage therapist. Her endless energy gave her the nickname "Motoring Melia." She placed 3rd on the Qualifier. On the sweeper, 'Mad Cow' Craig Goettsche won the one thousand bonus after a bit of a standoff, so she placed 2nd. She placed 2nd on the bucking bull when Blake Snekeder beat her time, and she kind of had fun with Jill Wagner, even though Jill Wagner was teasing her. In the Wipeout Zone, she beat Kim Dockery's time and got 8:40. Craig Goettsche ALMOST beat her, but he couldn't cross the drop bridge. He eventually ran out of time, so Melia became the 3rd female contestant to win fifty thousand dollars, right after Monica Kaufmann and Michelle Hart.
Community content is available under
CC-BY-SA
unless otherwise noted.