Kim Utterson



Name

Kim Utterson

Gender

Female

Age

Unknown

Residence

Unknown

Occupation

Unknown

Episode

3x04

Place

6th

Eliminated in

Jungle Gym

Achievements

None
Kim Utterson was a contestant on the World Cup episode of Wipeout in America. Kim's day came to an end on the Jungle Gym.
Run
[
]
Kim starts at the top of the ramp, where she, mistakenly, claims she's going to win a million dollars. She's loaded into the raft of the Wipe-Water Rafting, and takes off. Before landing on the water, she scissor-kicks herself out of the raft, and makes her way to the Sucker Punch, where she makes it half-way through, before falling in the mud. She then climbs up the ramp to the soccer Big Balls, where she stumbles on the second ball and falls in the water. At the Trampoline Sweepers, she tries to jump from the first trampoline over the sweeper bar, but gets clipped and falls just before the second one. Afterward, she faces the Fling Set, where she quickly runs across the first platform, but runs into the bar of the first set and falls. She comes in with a time of 03:25.2, which was good enough to advance.
In the next round, the Overdrive awaits. Kim's first attempt doesn't work out, as she is caught by the sweeper bar and sent into the water. She learned from her lesson and follows 'Pizza Man' Rick Collinwood to the middle.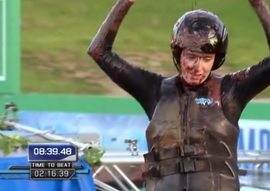 He makes it to the finish, but Kim is taken out by the sweeper arm once again. On her next attempt, she immediately makes it to the center and then to the red exit spot, but stumbles and falls face-first onto the Unstable Table. Afterward, she doesn't stumble, makes it to the Unstable Table, and then quickly to the finish.
Kim's the third to take a shot at the Jungle Gym, but is quite nervous and waits a bit before beginning her run. She makes her way to the first platform without much trouble, but is caught by the hoop and falls without touching the High Diving Boards. She jumps on the first, but is caught by the Treetrunks and falls down. On the Rug Pull, she faces double trouble as she stumbles due to the rug and gets taken out by the sweeper arm at the same time. The Stilt Trip is the last she has to conquer. She makes it to the third, tries to jump over the sweeper bar, but slides off the finish platform. She slowly gets up and finishes with a time of 08:39.48 and is ultimately, eliminated.
Results
[
]
| | |
| --- | --- |
| Qualifier | 03:25.2 |
| Overdrive | 4th |
| Jungle Gym | Eliminated (08:39.48) |
Quotes
[
]
"I'm going to win a million dollars!"
- Kim