John Anderson (born 1965) is a sports journalist from Green Bay, Wisconsin, and a host of the ESPN TV program SportsCenter since June 1999. He lives in Southington, Connecticut.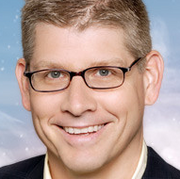 Anderson has a journalism degree from the Missouri School of Journalism at the University of Missouri. He is active within the MU Alumni Association and can often be seen at Missouri Tigers sporting events. Anderson was the Grand Marshall at Missouri's 2002 Homecoming football game, in which Missouri beat the University of Kansas. He was the Graduation Speaker at the School of Journalism's December 2007 graduation ceremony.
One of the reasons Anderson decided to attend Missouri was so that he could compete as a high jumper on the track and field team. As a student, Anderson worked at KOMU-TV, but any work on the sports desk was voluntary. After graduating, he spent time in Tulsa, Oklahoma, working for KTUL-TV and KOTV-TV, and he also worked in Phoenix at KPHO-TV before joining ESPN.
Since 2008, he and John Henson have co-hosted Wipeout, a reality game show which ran until 2014.
Anderson is an avid fan of Wisconsin sports teams, especially the Milwaukee Brewers, and usually voices some measure of support for them when handling their highlights.
Anderson acknowledges athletes with ties to Tulsa, Oklahoma by describing them with the phrase "former Driller." He mainly uses the phrase when mentioning baseball players who have played for the Tulsa Drillers, but on occasion he uses it to acknowledge other types of athletes from the Tulsa area.
When talking about New York Yankees outfielder, Curtis Granderson, Anderson always says "...the only thing better than an Anderson is a Granderson."
When talking about the Charlotte Bobcats, Anderson always refers to them as "Bob's Cats".

John Anderson is the co host (along with John Henson) and the 1st member of the wipeout team. John Henson sometimes calls him Johnny.
Community content is available under
CC-BY-SA
unless otherwise noted.