Jacquelynn Escalante

Jacquelynn has something hiding inside.

Name

Jacquelynn Escalante

Nickname

Girl Power

Gender

Female

Age

Unknown

Residence

Unknown

Occupation

Unknown

Episode

S310

Place

7th

Eliminated in

Overdrive

Achievements

None
Jacquelynn Escalante was a contestant on the Screw You, Banana! episode of Wipeout. She believes in her "Girl Power", which she kept screaming during her Qualifier run, and was her nickname in the episode. She was eliminated in the Overdrive.
Interview
[
]
When Jill asks Jacquelynn if she works out a lot, because she looks pretty fit, she answers that she doesn't, and that she has a lot of stuff hiding inside. Jill then mysteriously asks her what she's got hiding inside. John Henson jokes she's got her 'Girl Power' tucked in her spanks.
Run
[
]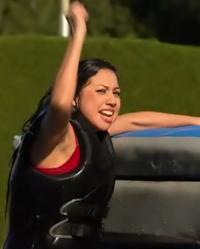 Jacquelynn runs down the stairs to the Tumble Stairs. While reaching for the trapeze, the stairs tilt and Jacquelynn tumbles down. While exclaiming "Girl Power!", she climbs up the stairs to the Hoop Run. She makes it through one hoop but the side of it sends her back in the water. She then makes it to the Sucker Punch, where she makes it half-way through. Next are the Big Balls, she jumps on the first and lands on the second, but slides off. After her climb up to the Trampoline Sweepers, she gets covered in foam. She makes it to the second trampoline, but is caught by the first sweeper arm, which sends her into the second, and into the water. The rest of her run is not known, but her time was good enough to advance.
Of her run on the Overdrive is not much known. While the water cannon is launched for the first time, Jacquelynn is shocked and screams "Why?" loudly. Her only attempt shown was one where she tries to run to the middle, but is caught by the sweeper arm. When Jesse Phillips grabs the last spot, John Henson says everybody's thrilled, except for Jacquelynn, who cries out: "Why me?", and sighs, as she is eliminated.
Quotes
[
]
"Do you work out a lot? I mean, you look pretty fit."
"Oh no."
"You don't at all?"
"I have a lot of stuff hiding inside... I don't work out!"
"What have you got hiding inside there, Jacquelynn?"
- Jill, Jacquelynn

"Girl power, 'till the end!"
"You hear that John? She absolutely will not stop, until the end! "(Jacquelynn wipes out.) "Oh, or here's good too."
- Jacquelynn, John Henson


"And as if this wasn't hard enough..."'
"WHY?"
"Our water cannon is shortening out Girl Power."
- John Henson, Jacquelynn


"Strongman puts an iron grip on that final spot."
"And everyone is thrilled..."
"WHY ME?"
"Except for her."
- John Anderson, John Henson, Jacquelynn
Trivia
[
]
Jacquelynn has double-jointed elbows. That means she can bend her arms backwards farther than straight.
The

Hoop Run

(of 3x10) and

Tumble Stairs

were only shown in Jacquelynn's run and in

Michael 'Moobs' White's

run.