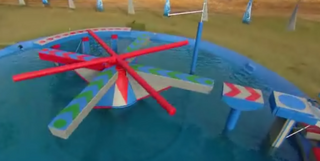 The Double Cross is an obstacle which the twelve contestants emerging from the Qualifier have to conquer. This stunt and the Overdrive have replaced the Sweeper and King of the Mountain for Season 3. The first six to cross the Double Cross, move on to the next round.
The twelve competitors start on a 10' high starting platform, while four planks move in a circular motion. They have to enter on one of the three green planks, and exit off the red plank. They then have to jump to an unstable table, which tips every nine seconds, and then to the finish platform. The tipping slows down eventually. In their way, however, are four sweeper arms that knock them in the water. If they fall, they have to try again. An extra addition to the Double Cross is the hole in the middle of the sweeper arms, which spurts out foam.
The obstacle was first featured in S302, the first regular episode of Season 3. Competitor 'Cowboy' Andrew Sherman of the episode, is very well known for his performance on this stunt, as he passed it in mere seconds, without wiping out.
Double Cross is now the name of a pricing game on CBS's daytime hit "The Price is Right".
It is featured on Wipeout: The Game in Extreme Mode as a Dizzy Dummy obstacle.