Chris Kinyon

Name

Chris Kinyon

Nickname

B-Boy Spider

Gender

Male

Age

27, 28

Residence

Burbank, Ca

Occupation

Post Production of Nickelodeon Animation Studios

Episode

Place

6th, 1st

Eliminated in

Dreadmill, /

Achievements

Won Wipeout
Chris Kinyon, also known as "B-Boy Spider" is a breakdancer from Burbank, Ca. Showboating cost him the $50,000 in round 3 of season one, but he returned to become the $50,000 winner in an All Star Episode in season 2.
Interview
Edit
Unknown
Chris started out strong on the Qualifier. He got a Top-12-Finish (2nd place), which moved him to The Sweeper. He also came in 2nd on the Sweeper, and moved in to the next round. Chris started showing off on The Dreadmill in round three which cost him a chance at the Wipeout Zone. The contestants had run on a treadmill and dodge The Wrecking Ball. As the Wrecking Ball started to get a bit lower, Chris ducted under it, with 7-Feet to spare and began to do breakdancing moves. He couldn't get back up in time and fell off the Dreadmill. He only had a time of 00:21:35, prompting the Wrecking Ball to say "you moron".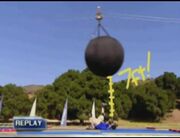 All Star EpisodeEdit
Chris came back for the All Star Episode in Season 2. Again, he past the Qualifier in second place, went to the Sweeper to finish 2nd again. But this time in the 3rd Round, it was the Bucking Bull instead of the Dreadmill that took him out last time. Chris managed to stay on the bull just long enough to get to The Wipeout Zone placing 2nd with a time of 00:47:24. He managed to have a time of 08:02:47 in the Wipeout Zone, which later eliminated Putt Egg and The Terminator. Ariel almost beat his time, but she couldn't get her foot on the finish line, making Chris, the winner of $50,000 and the winner of the first ever Wipeout All-Star Episode.
| | |
| --- | --- |
| Qualifier | 01:39.5 (2nd) |
| Crowbar Sweeper | 2nd |
| Dreadmill | Eliminated (00:21.35) |
| | |
| --- | --- |
| Qualifier | (2nd) |
| Gyro Sweeper with sacks | 2nd |
| Bucking Bull | 2nd (00:47.24) |
| Wipeout Zone | 1st (08:02.87) |
"No way... I was trying to show off... that was whack!"
Community content is available under
CC-BY-SA
unless otherwise noted.