The Banana Hammocks were 1st introuducted in Season 2 Episode 3. They are a series of slippery bananas hanging over a pit of mud that nobody could pass. When they were reintroduced for the food-inspired final of Season 2, still nobody was able to pass them. They were re-named The Banana Splits, because of the pudding in the mud and the "cherries" atop them. In Season 3, a banana hammock was placed as one of the 3 exits on the Overdrive. In Wipeout: the Game, sometimes they appear in the qualifier in the challenging mode.
Though normal Banana Hammocks did not reappear in Season 5, a variety of this obstacle was called the Panic Hammocks. This obstacle had the bananas colored green and purple and went clockwise like an actual Ferris wheel. Most people could not get across this obstacle either.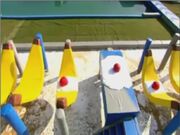 Community content is available under
CC-BY-SA
unless otherwise noted.